These costumes are closer to Fashion Design. In this mix you will find my wedding dress, some prom dresses, and a class project about subcultures.
These renderings were made as part of a class project where we were told to design an outfit for a subculture. I thought "skater" or "goth" was boring, so I looked to a subculture of the past for inspiration. My Glamrock Girls are depicting a look I like to call Electric Desire.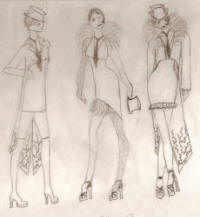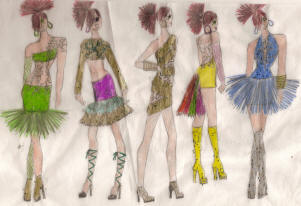 I designed and sewed my own wedding dress, partly for the fun of it, partly because I'm an old fashioned girl at heart, and partly because I wanted something both traditional and innovative. I started with the pattern for a simple strapless gown and inserted gathered panels into either side to provide more volume at the hips, giving it a unique structure but a traditional line. When I realized how much they're charging for veils these days, I made that too.
(OOps!! These pictures are packed! coming soon....)